A Premier Full-Service Photography And Film Studio
A Premier Full-Service
Photography And Film Studio
SIMPLIFY
YOUR
RENTAL
EXPERIENCE.
Our all-inclusive studio rental concept simplifies many aspects of the production experience.
Lower rates, included EQ, and all the amenities you need to focus on your creativity.
Just bring your camera and we'll help make the rest happen.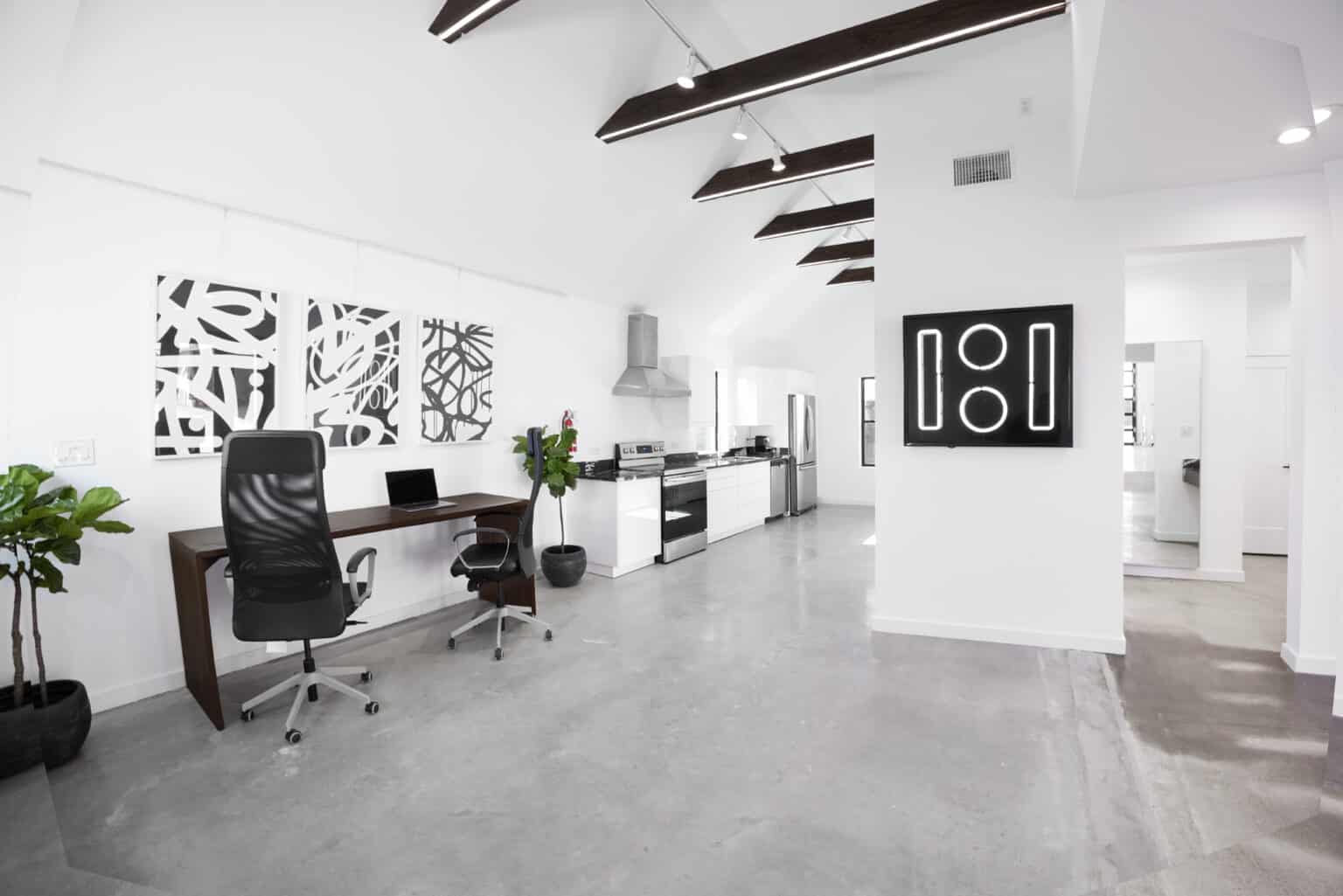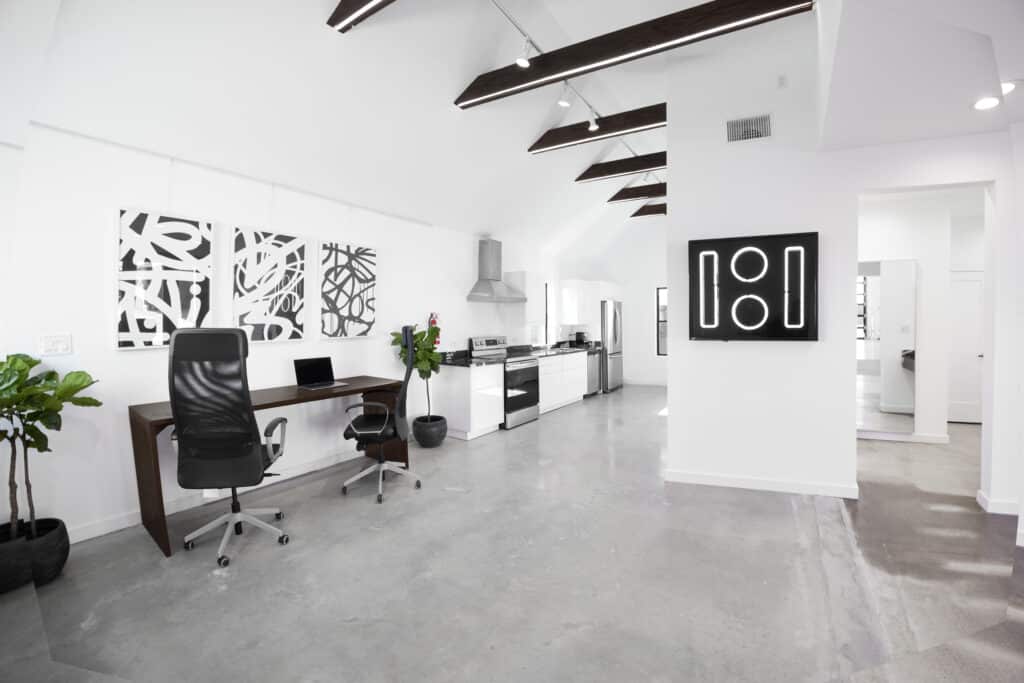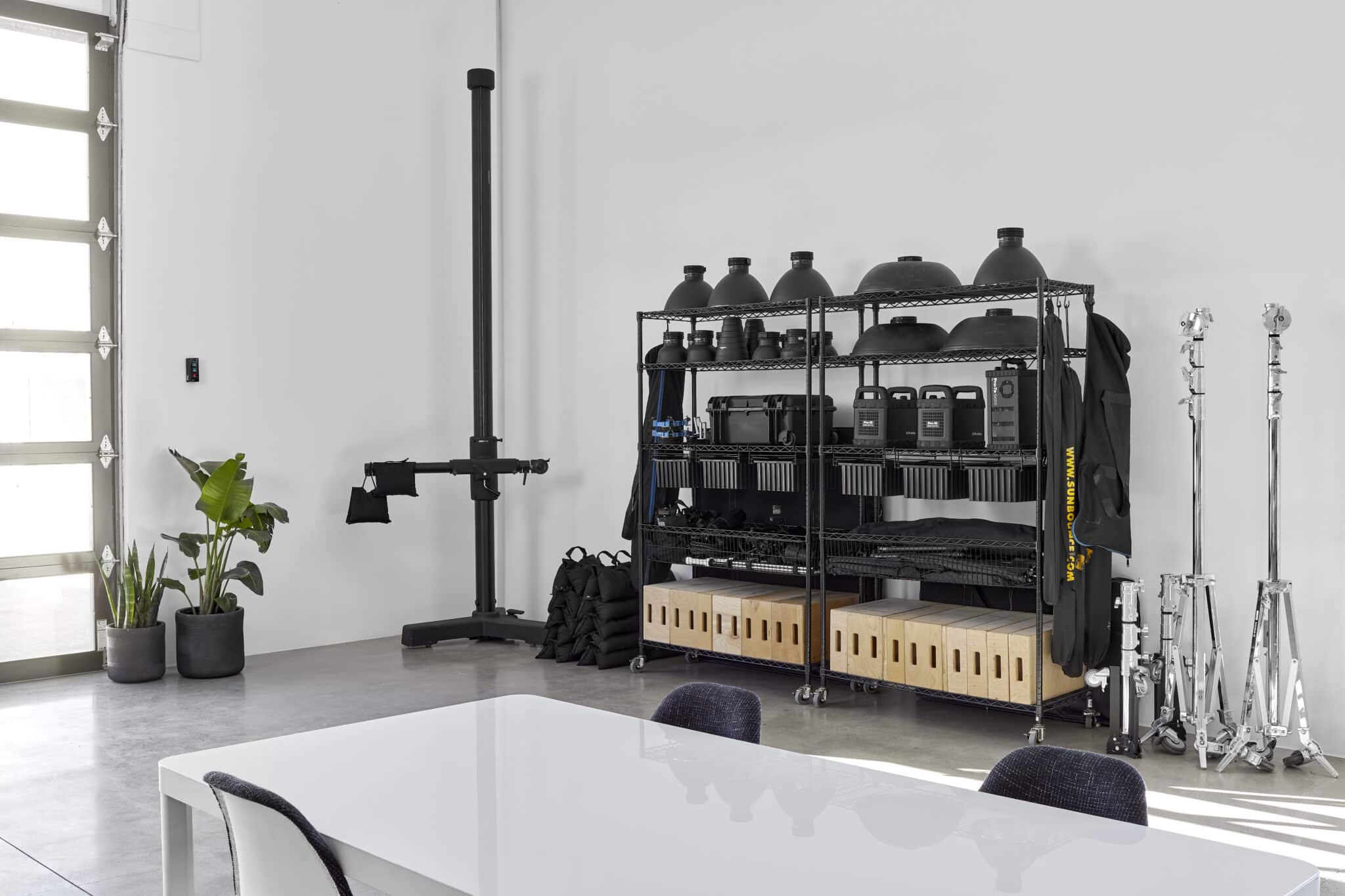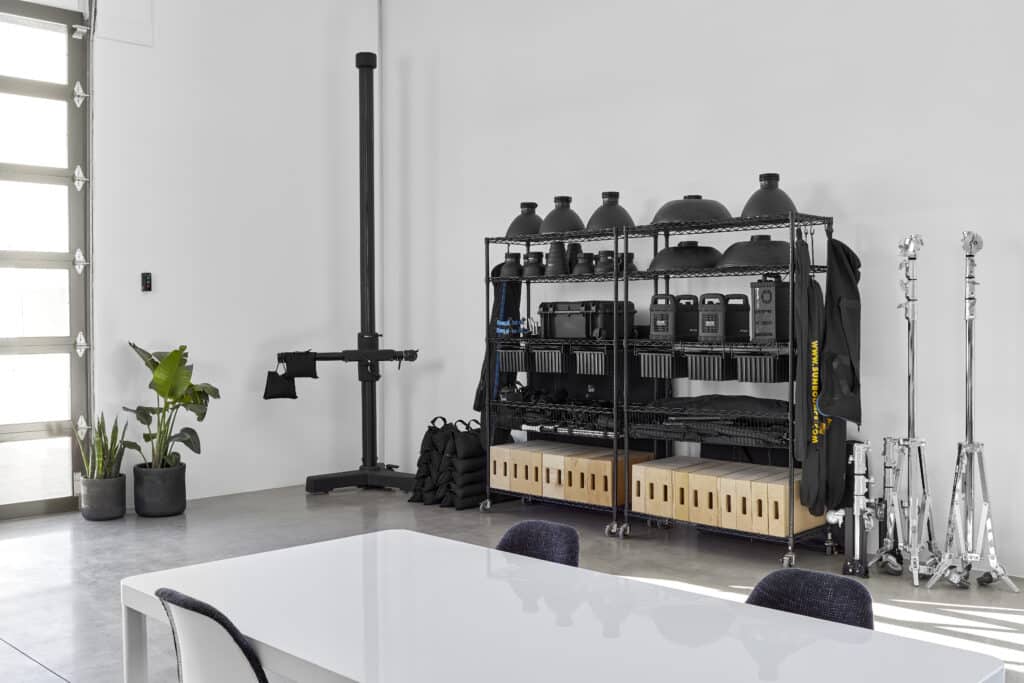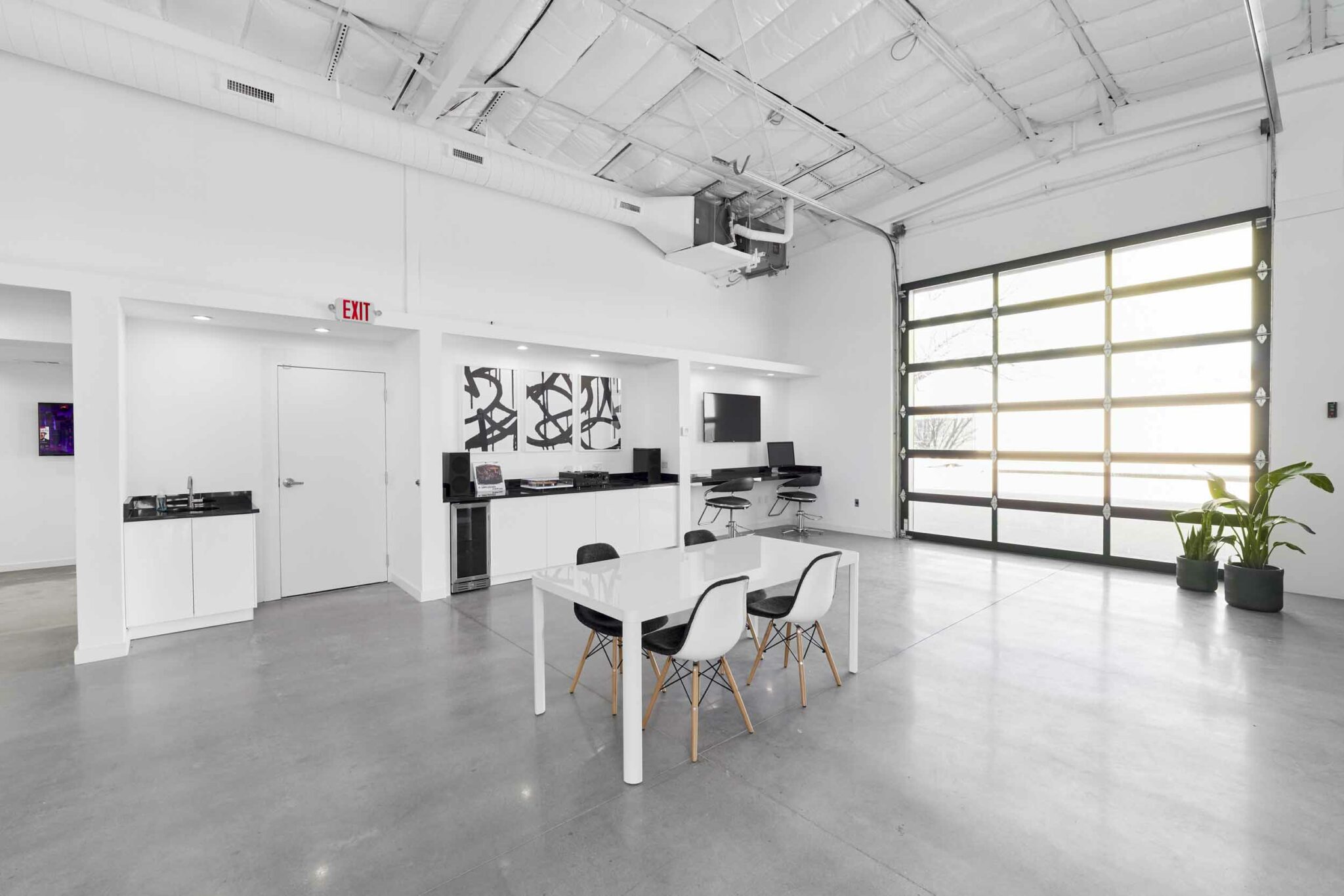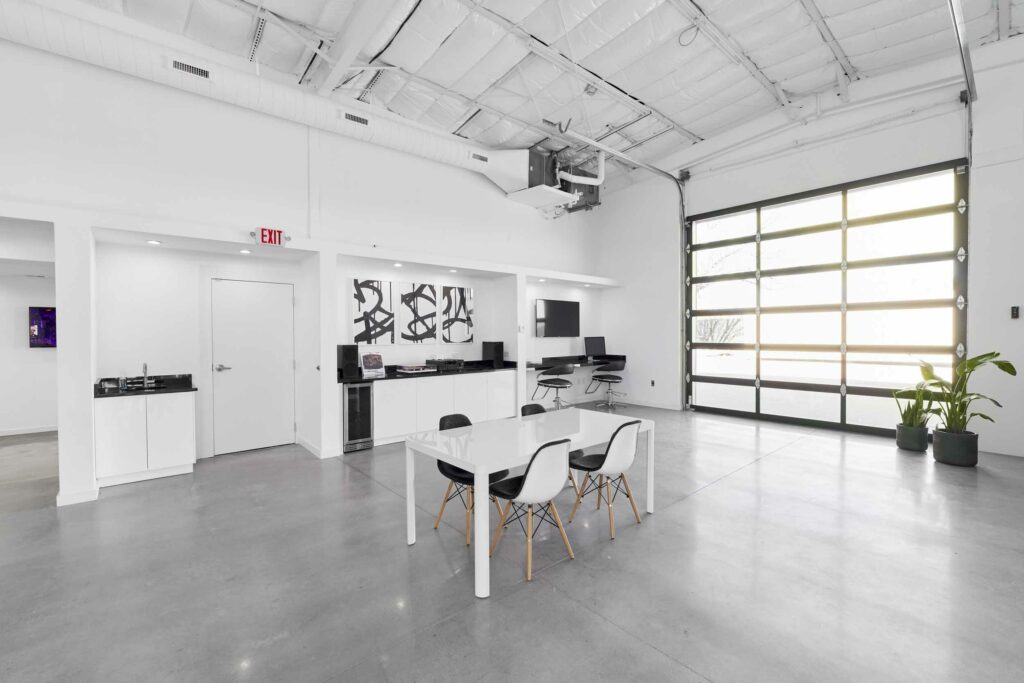 Our state-of-the-art studio is just over 2,300 sq. ft. of overall space and 300 sq. ft of private patio. Our shooting area is 1,200 sq. ft. with 16 ft. ceilings. The shooting space features two large glass roll-up doors measuring 12ft high by 12ft wide. The eastern and northern light exposures provide exceptional natural light all day long. Additional the studio has ground-level load in ability through glass roll-up doors.
2,300 sq. ft. of total creative space.
1200 sq. ft of shooting space featuring 16' Ceilings.
2 large glass roll-up doors (12 ft high by 12  ft wide)
Eastern and northern natural light exposures.
Internet and wireless network.
Multi-Zone HVAC.
Private restroom and shower.
Kitchen w/ range and refrigerator
In studio EQ racks.
Studio flat files.
Built-in studio workstations with 55" 4k TV.
Large gated parking lot.
Private covered Patio.
Kitchen cupboard stocked for food shooters
Having the best light possible is critical for incredible photography, this is why we offer a diverse range of lighting solutions. Our studio is ideal for photographers who prefer natural light. We chose the location specifically for its eastern and western exposures, as well as the two 12' x 12' glass doors that allow an abundance of natural light to enter. As sunset approaches, gorgeous orange and pink hues shine bright against the stark white interior, adding depth and beauty to your images. Add our 1/4 or 1/2 stop silks to the glass rollup doors to easily diffuse the light. Complete darkness can also be achieved by lowering our exterior roll-down shutters.
Overtime/Early Rate: 150/hr
Additional statutory holiday rates will apply.
Please note that our studio is NOT soundproof.
Rate are subject to change.
8am – 1pm (4hr)
2pm – 7pm (4hr)
Profoto 7a 2400 Ws
Profoto 7" Grid Reflector
Profoto 7" Zoom Reflector
Profoto Air Remote TTL-C
Profoto Air Remote TTL-N
Profoto B1 500 AirTTL 2 Light Location Kit with TTL-C
Profoto Beauty Dish Softlight Kit (White)
Profoto Beauty Dish (White)
Profoto D1 1000 Ws Air
Profoto Magnum Grid
Profoto Magnum Reflector
Profoto Pro-10 2400  AirTTL
Profoto Pro-10 2400  AirTTL KIt 2 ProHead 500W
Profoto ProHead Plus UV 500W
Profoto Softbox 5' Octa
Profoto Umbrella Shallow White s 33"
Apple Box (1/8, 1/4, half and full)
Avenger 20"C-Stand
Avenger 40" C-Stand Grip Arm/Knuckles
Avenger Overhead Stand With Braked Wheels (14'3")
Avenger Roller Stand Folding Base (3'9")
Avenger Wind-Up 39 With Braked Wheels (12')
Manfrotto Super Boom with Weight Roller Stand
Manfrotto 122B 3' Backlight Stand with floor Stud
Manfrotto 425B Mega Boom with Wind-Up Stand
Cardellini End Jaw
Super Clamp w/ 5/8″ Pin
12' X 12' SILK (ARTIFICIAL WHITE) WITH BAG
12' X 12' SOLID (BLACK) WITH BAG
6' X 6' FRAME COMPLETE WITH CORNERS/EARS/SLEEVES
6' X 6' SILK (ARTIFICIAL WHITE) WITH BAG
6' X 6' SOLID (BLACK) WITH BAG
6' X 6' ULTRABOUNCE WITH BAG
8' X 8' 1/4 STOP SILK (ARTIFICIAL WHITE) WITH BAG
8' X 8' BLEACHED MUSLIN WITH BAG
8' X 8' DOUBLE SCRIM (BLACK) WITH BAG
8' X 8' FRAME COMPLETE WITH CORNERS/EARS/SLEEVES
8' X 8' SILK (ARTIFICIAL WHITE) WITH BAG
8' X 8' SINGLE SCRIM (BLACK) WITH BAG
8' X 8' SOLID (BLACK) WITH BAG
8' X 8' ULTRABOUNCE WITH BAG
Chimera Pancake Lantern with Skirt Medium 35" Diameter Chimera Soft Fabric Grid Medium (50) Chimera Soft Fabric Grid Medium Strip (40) Chimera Super Pro Plus Medium (36"x48") Silver Chimera Super Pro Plus Medium Strip (14"x56") Silver Chimera Super Pro Plus Small Strip (9"x36") Silver
Sun Bounce Big Bounce Silver/White (6×8) Sun Bounce Pro Frame Black/Ultrabounce (4×6) Sun Bounce Pro Frame Silver/White (4×6) Sun Bounce Cage and Skrim Kit
Chimera Pancake Lantern with Skirt Medium 35" Diameter Chimera Soft Fabric Grid Medium (50) Chimera Soft Fabric Grid Medium Strip (40) Chimera Super Pro Plus Medium (36"x48") Silver Chimera Super Pro Plus Medium Strip (14"x56") Silver Chimera Super Pro Plus Small Strip (9"x36") Silver
24" X 36" DOUBLE SCRIM (BLACK)
24" X 36" FLAG
24" X 36" SILK DIFFUSER (ARTIFICIAL WHITE)
24" X 36" SINGLE SCRIM (BLACK)
48" X 48" FLOPPY- OPENS TO 48" X 96"
48" X 48" SILK DIFFUSER (ARTIFICIAL WHITE)
48" X 48" SINGLE SCRIM (BLACK)
4" X 14" DOUBLE FINGER (BLACK)
4" X 14" SILK FINGER (ARTIFICIAL WHITE)
4" X 14" SOLID FINGER
Fiilex K303 P360 with P2Q Adapter 3-Light Kit
Fiilex Q1000 light Kit with Accessories
(214) 396-1972
2655 Myrtle Springs Ave
Dallas, Texas, 75220